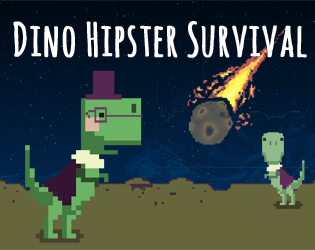 Dino Hipster Survival
Help Dino scientist Mr. Trexman save the planet and other dinosaurs from the asteroid. In this world Dinosaurs are very smart and they are familiar with all new mobile trends... Is it good for their anti-asteroids protections system? It's for you to decide :)
Sound by Dmitry Petyakin (dmpetyakin86@gmail.com), Alexander Urbanovich ( alexandrurban94@gmail.com)
I'm not the author of code behind the flying missiles and textures behind the explosions. Source by @SetTheBet of the original: https://github.com/AJirenius/MissileCommand.
Added after this @SetTheBet's message:
----
I actually think you could tell people that you are not the author of the game (as claimed at itch.io). You're using the exact game I am livestreaming here: https://www.livecoding.tv/setthebet/videos/jKax8-small-game-from-scratch-gui . Not even replacing art, explosions, changing stroboeffect, tweaking missile and the arcs.. I know my gameproject is publically out there on github for everyone to use but.. the whole game in the gamejam? Claiming yourself as author?
I also understand it's your first time creating a game in Defold but the engine is actually so simple so you could probably easily create this yourself. Or watch my stream and create anything similar.
----
Also i'm not the author of the pixel art Dino style, it's Google Chrome's offline mode texture with new coloring and clothes. Asteroid texture was just google by "asteroid pixel art image license free". Buttons texture and back star texture also weren't drawn by me, unfortunately i don't remember from which project them, but it something very old on my Work/Projects/ folder found by grep/find.
#LDJam #LDJam36 #LudumDare36 #LudumDare
Download
Click download now to get access to the following files:
DinoHipsterSurvival_linux.zip
20 MB
DinoHipsterSurvival_osx.zip
8 MB
DinoHipsterSurvival_win.zip
8 MB